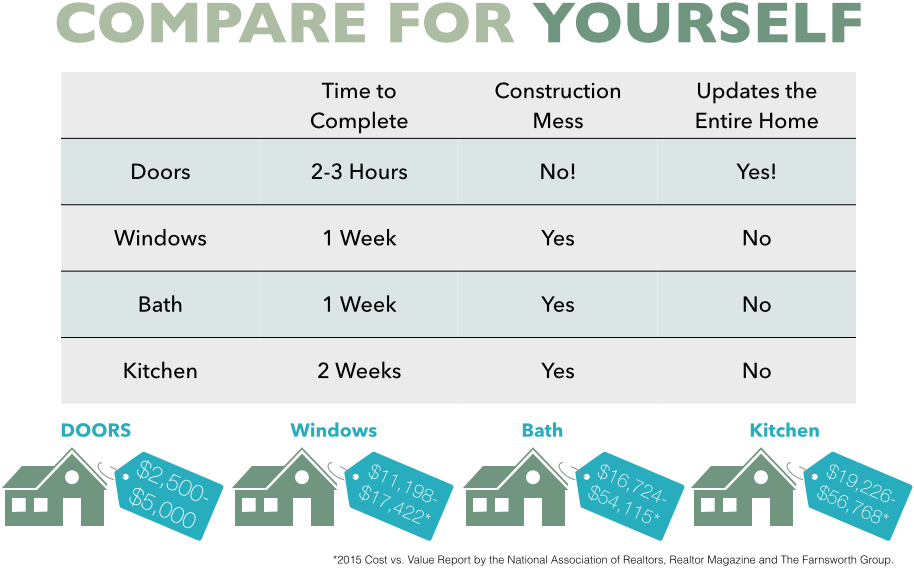 Replacing your aging interior or exterior doors with new designer doors makes an incredibly stunning transformation - replacing your doors is the best and most cost-effective makeover for your entire home!
Of all the remodeling choices you have to update your home, replacing your doors with new designer doors can have the most dramatic and immediate effect (for the least amount of money).
Doors are everywhere in your home and have a large and very visual impact. Are your doors old, outdated, or beat-up looking? Do they really reflect your home's personal style and flair? Your doors are seen and used every day and can make a significant impression on everyone who enters your home.
Replacing your interior doors with HomeStory will transform your home into a stunning showplace in just hours with no mess and no construction.
Whether you are looking for beautiful sliding glass doors, bi-fold doors, gorgeous french doors, pocket doors, or trendy barn doors, we have exactly what you are looking for. We can completely update the look of your home for a lot less than you might imagine. No other method of door replacement is quicker and easier than HomeStory's hassle-free process.
Contact us today to set up your free in-home appointment.