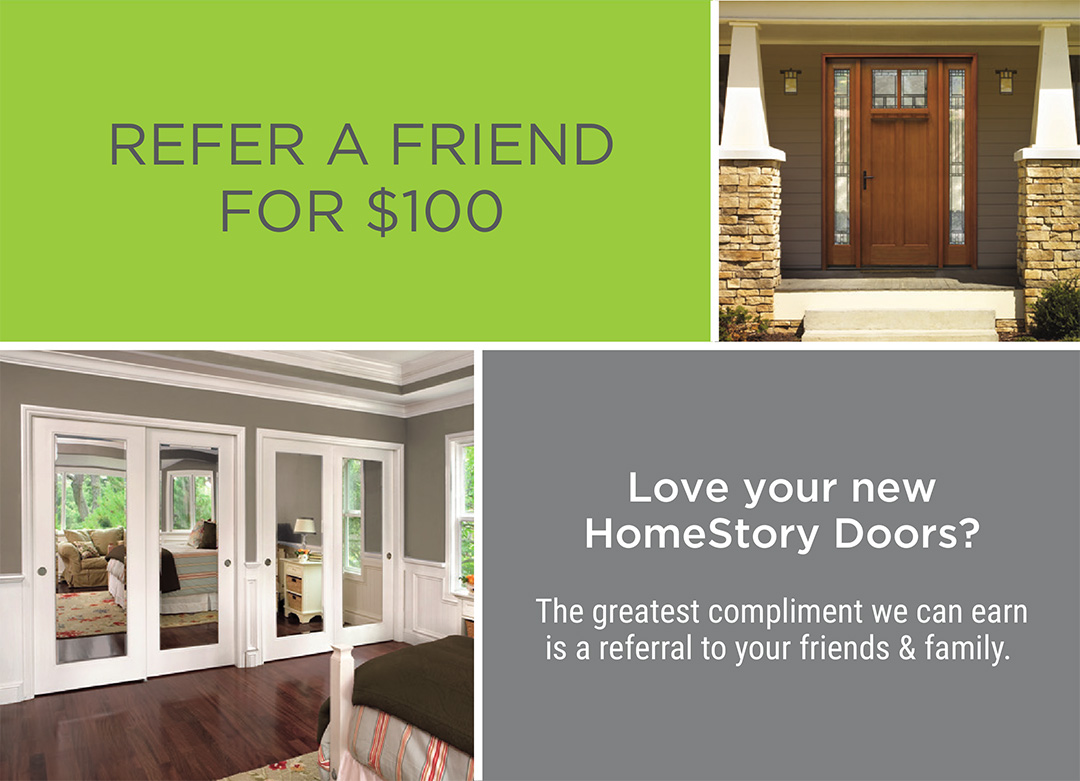 Love HomeStory Doors? Refer a Friend for $100
Your Friends & Family Deserve the Best Too!
The greatest compliment we can earn is a referral to your friends, family, or co-workers.
To show our appreciation for referring us to family or friends who become a HomeStory Doors customer, we will happily mail you a check for $100! See offer details below.
1.
Share your experience with HomeStory Doors!
Call friends and family and tell them about your experience with us.
TIP: HomeStory Doors make an excellent holiday gift!
2.
Have them schedule a convenient, free in-home design consultation.
Appointments available Mon - Sat, daytime and evening appointments.
3.
Once their HomeStory Doors are installed, you will receive a check for $100 within 30 days.
Make sure to let us know you referred them!
Share your experience with HomeStory Doors with your family and friends!
Can't wait to get started? Call 1-800-60-STORY today!
Flexible Appointments to fit your schedule, available Monday – Saturday, daytime and evening.

Replacing your old interior doors or exterior doors with all new designer doors make an stunning transformation — it's the best whole home makeover!
HomeStory Doors Referral Program
* Once a purchase is complete, we will gladly mail you a $100 check as a thank you for your referral. Copyright 2018 HomeStory Doors, All rights reserved. Each franchise independently owned and operated.